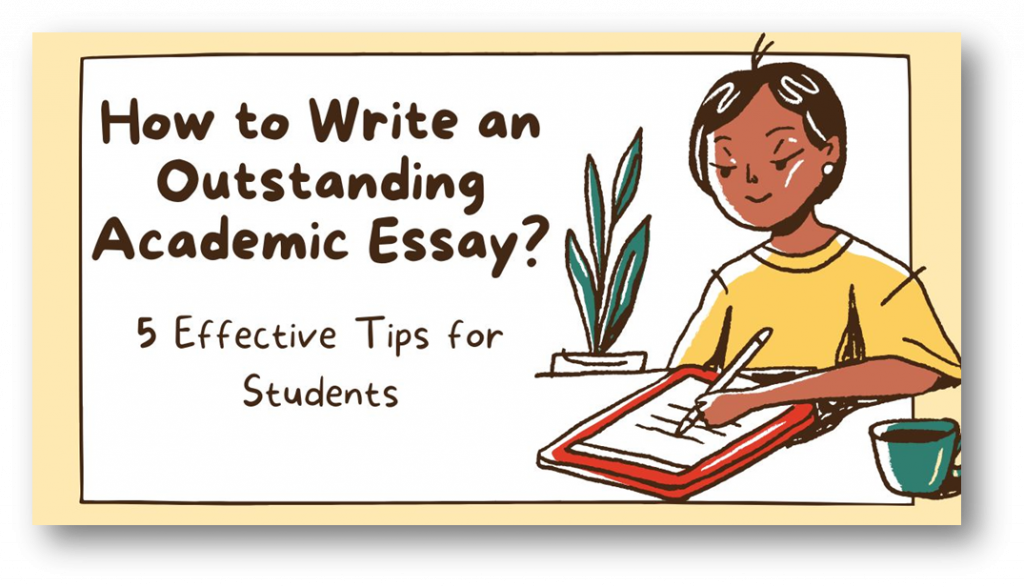 A regular question by students and many others is how to write an outstanding academic papers. So, we're here to answer it.
In a nutshell, an academic essay is an organized form of writing for students in school, college, and university as a part of the syllabus.
An academic essay is a written work that stimulates discussion, analysis, and explanation.
The most common purpose of such writing is to either present some new ideas or information other than to use existing facts to create some specific ideas.
Many students fail to write any academic paper because they don't know where to start and where to end. They use irrelevant information in their topic or they use duplicated content in their essay.
If you are one of them who is new to this academic writing field, then don't worry. In this article, we will clearly explain everything about how you can write an outstanding academic essay with proven tips.
So, don't miss any part of this article. Let's get started.
5 Effective Tips for Students While Writing Academic Essays
Here we are with 5 effective tips that students can apply to write an outstanding academic paper which is as follows:
1. Conduct proper research on your topic
The first thing that comes in writing is, choosing a topic. We are mentioning this tip here because we want this article to be short and easy.
After choosing a topic, you have to research your topic properly and gather every essential piece of information. For perfect and proper research, you must gather data from various sites and books, beside this never rely on a single webpage.
For better research, get free access to online libraries and databases and check professional papers related to your topic.
You need to save the information and source sites in a different document when doing research. This will save you a lot of time, and you can easily cite the information correctly. For writing a unique essay, you always need to cite the sources properly.Without references, it can lead to duplication.
So, make sure that you have conducted proper research and saved your resources link.
2. Find and Remove Grammar Errors
Sometimes, you make mistakes without even knowing that. To avoid this, you must practice and improve your command of English.
Grammatical errors are common, but they are not completely unavoidable. Even if you are good at English, some spelling or grammar mistakes tend to happen no matter how careful you are.
For this, you have to go for a grammar and punctuation checkerand find all the mistakes in you. Proofreading can also help you in that scenario.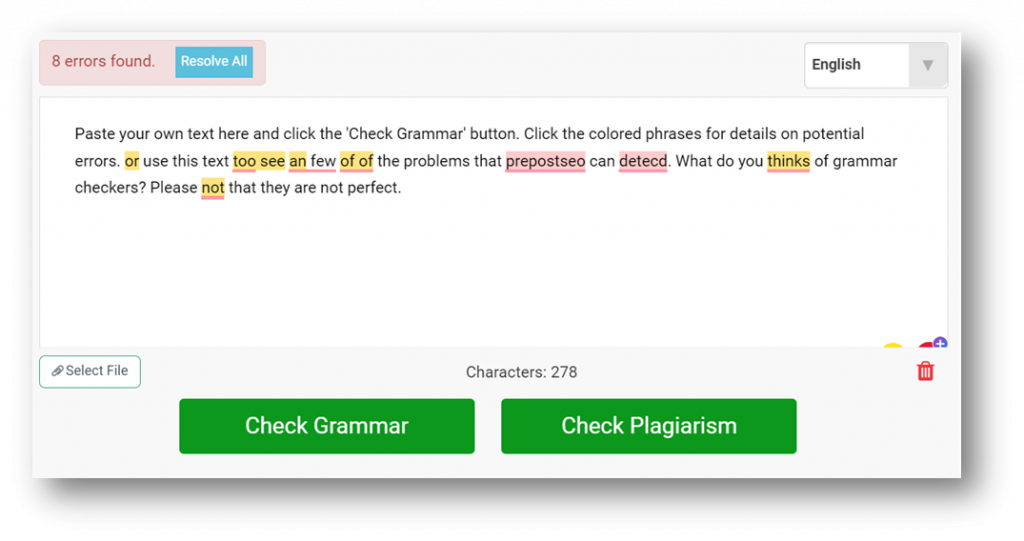 Bygetting a grammar check, you can correct all the highlighted errors and remember them when writing your next essay. If you are a little bit weak in checking grammatical mistakes, you can also find grammar errors through an online tool, which will be very helpful.
These tools use advanced AI technology to find grammar errors, and also with this, they provide suggestions to correct those mistakes.
3. Properly Structure and Organize Your Write-Up
The next tip in writing an outstanding essay is properly structuring and organizing your content. An academic essay is all about how you organize your content and put every piece of information in the right place.
Remember, well-managed and properly structured content can look more engaging and likable than those that don't organize in a good way.
In writing, you already have every piece of information; you just need to write them in a meaningful way. You need to include some specific headings or chapters, like H1 for the title, and use a couple of H2s, H3s, and H4s. You can also follow the outline or structure given in the below image.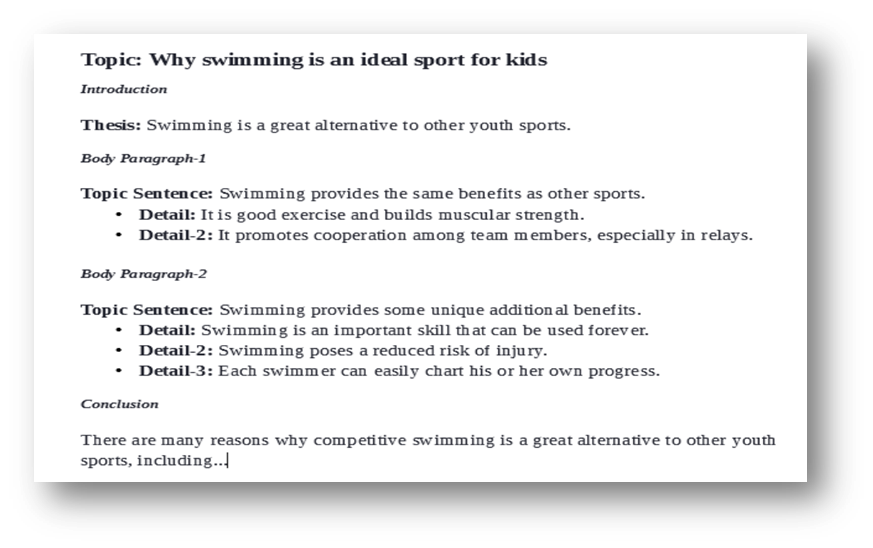 If you're writing lengthy research papers, then it may happen to reach H5 or H6, then instead of using these headings, you can start your essay or content in bullet points.
With this, your content will be structured and organized well, which will surely help you in writing.
4. Make Your Essay Easy to Read
If you want to write an outstanding essay, this tip will be very helpful. The reason is if someone faces difficulty in reading or understanding your essay, then how will it be an outstanding essay?
In writing an essay, you always have to keep one thing in your mind, you are writing for humans, not for machines. You have to use easy and simple wording while writing. Whether it is a blog post, article, or any academic paper, it must be written in easy words.
If you have already written an article and you own self finds difficulty in reading, then you can rephrase online.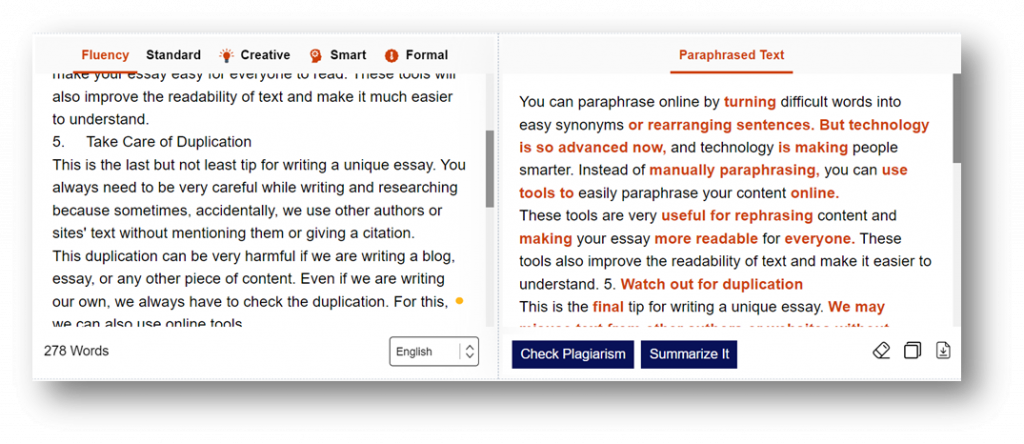 You can paraphrase online by changing difficult words into easy synonyms and restructuring the sentences.
But, now technology has become very advanced and with technology, people are also becoming smarter. Instead of paraphrasing manually, you can easily paraphrase your content online with tools.
These tools are very helpful in paraphrasing the content and make your essay easy for everyone to read. These tools will also improve the readability of text and make it much easier to understand.
5. Take Care of Duplication
This is the last but not least tip for writing a unique essay. You always need to be very careful while writing and researching because sometimes, accidentally, we use other authors or sites' text without mentioning them or giving a citation.
Duplication is discussed as plagiarism here
This duplication can be very harmful if we are writing a blog, essay, or any other piece of content. Even if we are writing our own, we always have to check the duplication. For this, we can also use online tools.
Duplication is discussed as plagiarism here.
These duplication-checking tools are available on the internet in a large variety. This tool helps us to detect the copied content that is matching from other sources or sites.
With the help of an online tool, you can save time and easily change or remove duplicated content.
Conclusion
We hope we have given you a good start to writing an outstanding college essay. Remember that the purpose of an academic essay is to develop your ideas to convey a message.
With improved academic essay writing, you will be able to express yourself clearly and write and speak with greater confidence.
Good luck with your homework.